Bag Wars: Key Concerns for Commercial Stakeholders in the UK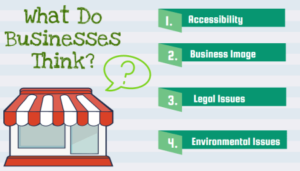 Previously, we spoke about the major issues that consumers worry about when choosing to use a particular bag (here). However, consumers aren't the only stakeholder we need to consider. Often, the sheer availability of plastic bags is what makes them so pervasive in modern consumerism, and to understand why plastic is so widely available, we need to talk to the people providing it; the business owners.
We interviewed four commercial business owners in Birmingham about their opinions on plastic bag use. In doing so, we gained an insight as to why plastic is the most popular choice for business owners.
1. Accessibility
All four of the businesses we interviewed noted that for one reason or another, alternatives to plastic were simply difficult to access. Most notably, businesses said that plastic alternatives were much more costly; plastic was considered to be the cheapest and most economically viable option for businesses, closely followed by paper. Cloth and canvas were thought to be most expensive.
Businesses also expressed concern over the poor range of plastic alternatives that were offered to them by suppliers; it seems that a large part of their failure to supply plastic alternatives for consumers stemmed from the observation that the businesses themselves did not have easy access to eco-friendly bags.
2. Business Image
For smaller businesses, shopping bags served as another form of advertisement. Brand names and logos can easily be printed onto plastic and so can serve as another way to put a business name "out there". For one particular start-up, the design of the bag was seen as critical for business exposure. The store even went so far as to choose transparent plastic as their preferred bag material so that their products could be seen by passing shoppers.
Businesses were careful to choose bags that reflected how they wanted their company to be seen. For the owner of an independent luxury clothing store, it was important that the quality of his chosen bag matched the high quality of his stock. Consequently, providing customers with smart-looking paper bags (as opposed to cheap plastic) was important for the businesses reputation.
Businesses were often worried that abolishing plastic bags would reflect badly on their stores. Offering customers a way to carry their goods is often seen as good customer service. However, when we asked consumers about this, they disagreed; In a short questionnaire (here), 47% of those we asked said they would view a store more positively if it refused to offer plastic bags, while an additional 33% said it would make no difference. So, changing how businesses think about customer perceptions may encourage them to switch to eco-friendly reusable alternatives.
3. Legislation and Legal Issues
Businesses were worried about future legislative changes regarding the regulation of plastic bags. In the UK, businesses which employ over 250 employees must charge customers 5p for each single-use plastic carrier bag that they use. Two out of the four businesses we interviewed believed that future changes to this legislation would dramatically change how we use plastic bags. Some were concerned that additional charges and bans would place extra strain on their business by forcing them to buy more expensive reusable bags, or by driving customers away.
4. Environmental Issues
While some companies did comment on the environmental impact of plastic bags, this was not their primary concern. Most business owners claimed they were fully aware of the plastic problem, but this did not influence how they ran their business.
So What Does This Mean?
From a business perspective, environmental issues associated with plastic bags are often overlooked. While businesses may indeed care about the environment, eco-friendly alternatives are neglected in favour of cheaper options. Businesses may be persuaded into going plastic bag-free by circumventing cost, emphasizing the advertising power of reusable bags, and through legislative intervention.
Useful Links
Plastic Bag-Free Tips For Businesses - PDF File
Waste and Resources Action Programme
The Plastic Bag Charge
Marketing And Promotion Of Plastic Bag Alternatives in the UK - PDF File
Author: Jenny Knowles