Education around cotton masks
Although initially there had been doubt about the effectiveness of a home made cotton face cover, reports from the Czech Republic proved that their country had found these very effective in containing the spread of the virus. The eCoexist team, along with help of several volunteers translated the video form the Czech organisations masks4all.org into four Indian languages to relay to the Indian public.
You can watch the videos here...
Original English Video from Czech Republic
Reusable cotton face covers : DIY
eCoexist created a simple DIY poster to help people to start making cotton face masks at home. This poster was designed by Marie Gon, a Dutch designer and then translated into nine Indian languages, and then sent out via social media to several networks around the country. The simple step by step instructions, allowed self help groups to start their own production for local supply chains.
CLICK HERE for a detailed explanation of the process.
Production and Supply of Face covers
The womens groups in the village of Ahwalwadi stepped forward to make reusable cotton face covers to supply to hospitals, industries and residential neighbourhoods early during the Covid crisis in Pune. With a start from the KEM hospital the women, went on to make several thousand face covers using a double layer medium thick cotton fabric, or a three layer soft cotton fabric. Orders were collected by means of social media from various neighbourhoods and relayed to the women who continued to produce from their homes in the village.
This project provided a source of income to the women, during these uncertain times and also used their sewing skills perfectly. The network of production that had already been established for cloth bag production, worked very well to supply reusable cotton face covers.
NGO collective
As the demand for the reusable cotton face masks increased, after the government of India endorsed the idea, we found that we were getting many many requests for the masks, we invited several other NGOs in Pune city who had also begun production to come together in a collective, so that we could balance supply and demand, and we started forwarding orders to each of these NGOs. Among the organisations who worked with us were:
Poornam Eco vision
Anubhuti Foundation
Manndeshi Foundation
Udyogita Mahila Sanstha
The eCoexist team coordinated the marketing of the masks to ensure that each of these NGOs recieved enough orders for their women.
REVIVE : Talks to Reconnect
A series of webinars to reflect on possibilities for a new world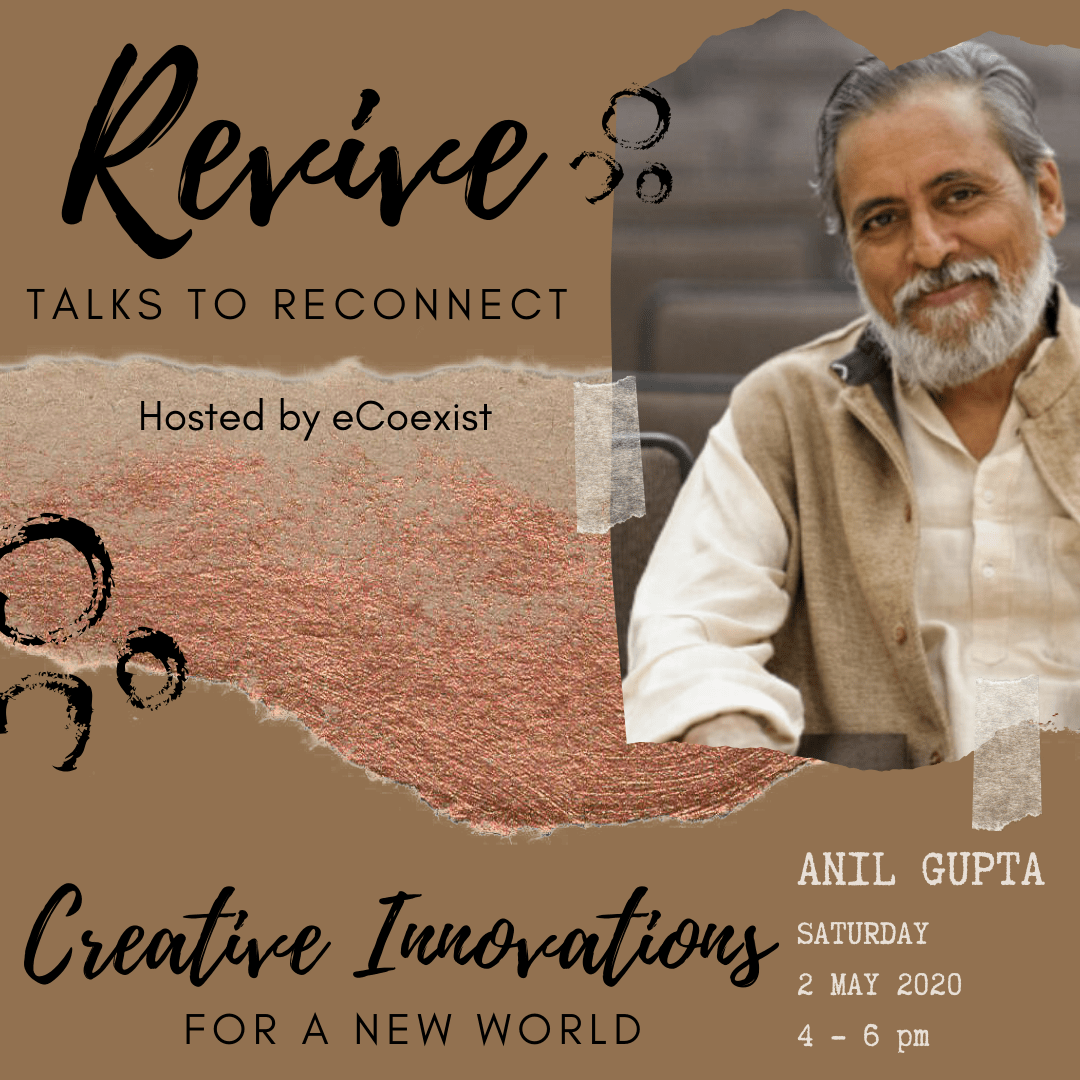 CREATIVE INNOVATIONS for a new world
Prof Anil Gupta, founder of the Honey Bee network speaks about the creativity and innovative solutions available among grassroots communities, and how these can be fundamental to transforming the lives and landscapes of rural India , post Cover. He speaks about the reverse migration of labourers and how the skills that they have learnt during their time in urban areas can now be used to bring small scale and appropriate technology to their native lands.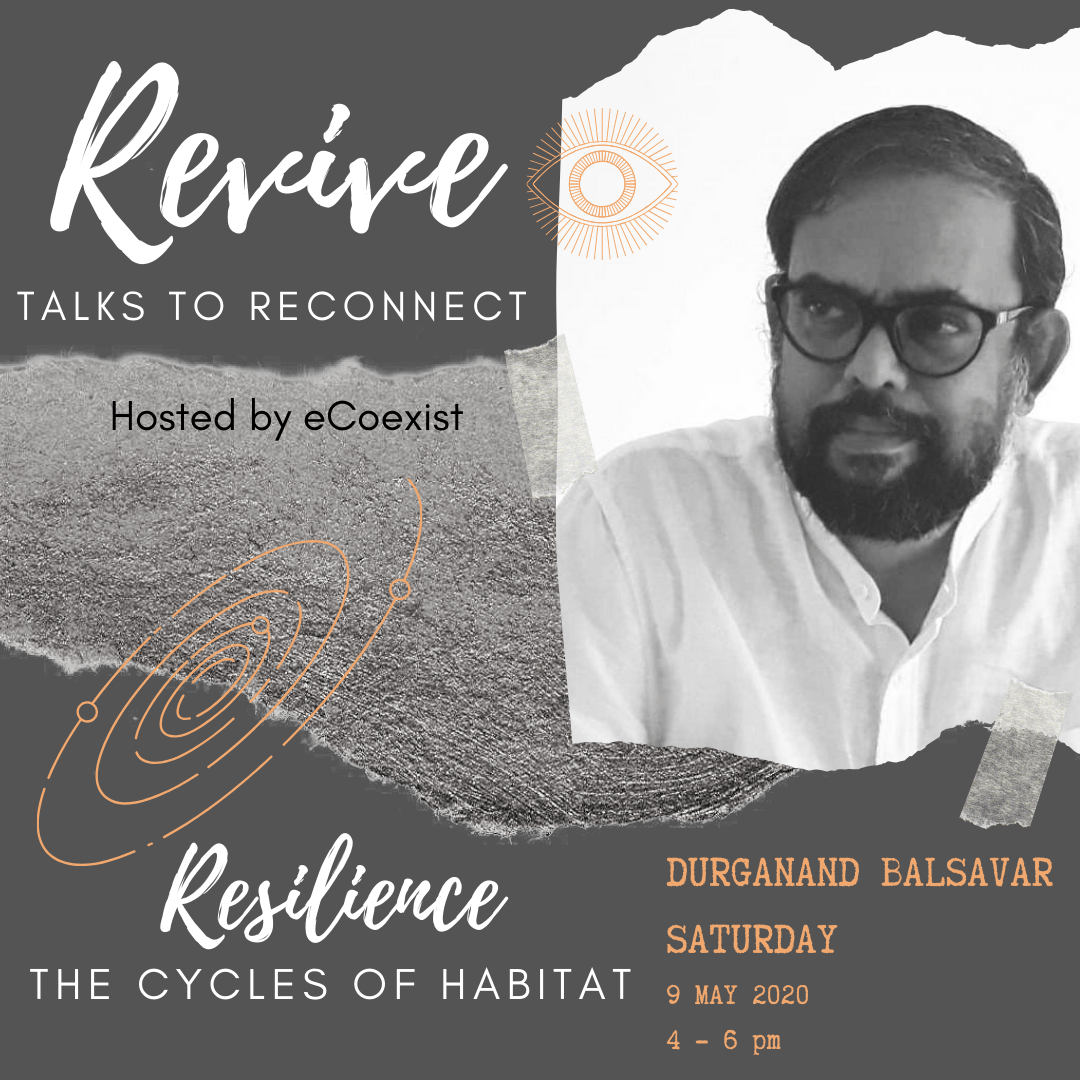 RESILIENCE: The Cycles of Habitat
Architect Durganand Balsavar, speaks about his experiences in disaster mitigation and rebuilding of communities.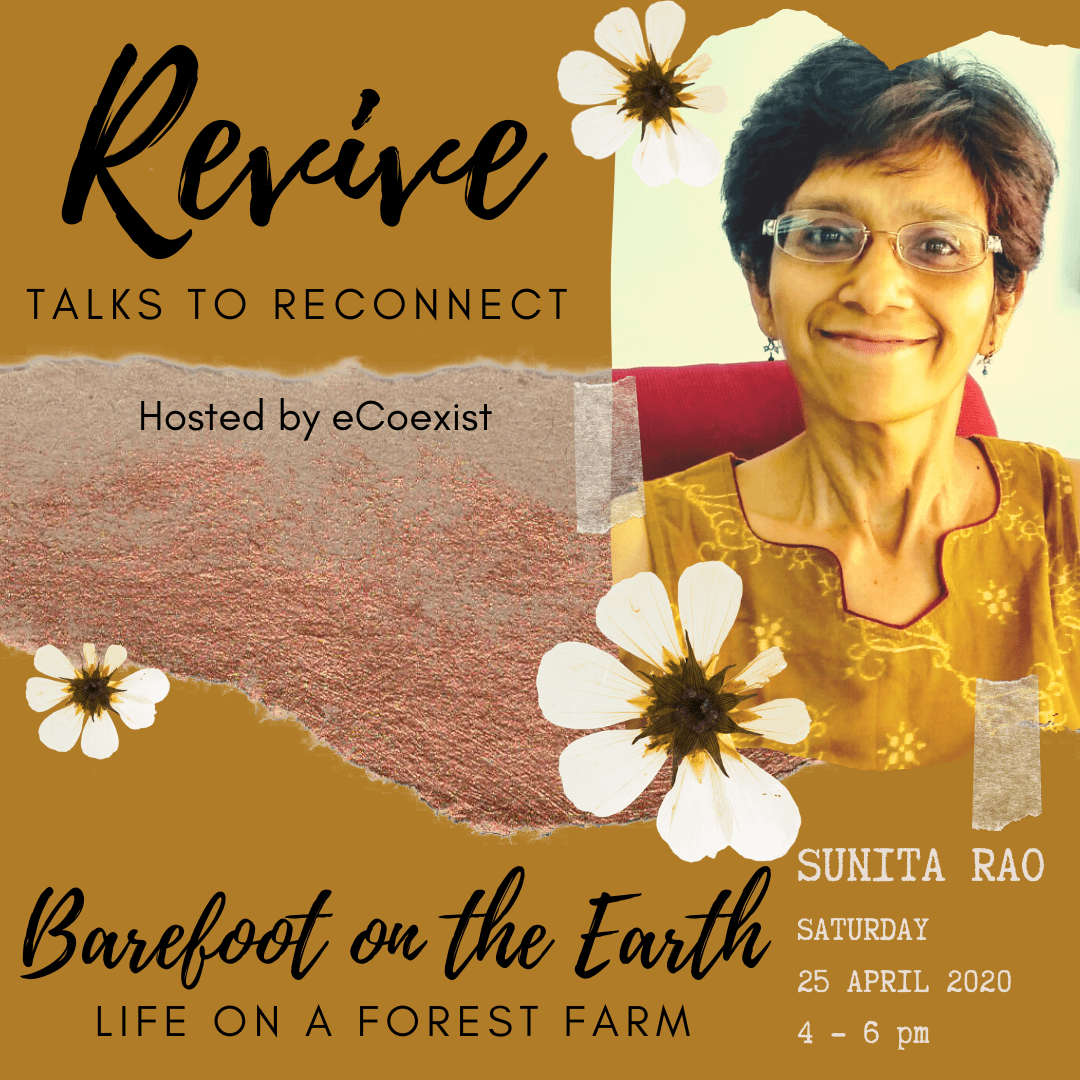 BAREFOOT ON THE EARTH: Life on a forest farm
Sunita Rao, founder of Vanastree, speaks about her journey in creating Huthina Betta, an organic forest farm in the forests of Sirsi, Karnataka. Sharing her challenges in single handedly managing a forest farm for two decades, Sunita speaks about the practical aspects of what it would mean for urban folks to return to life on the land.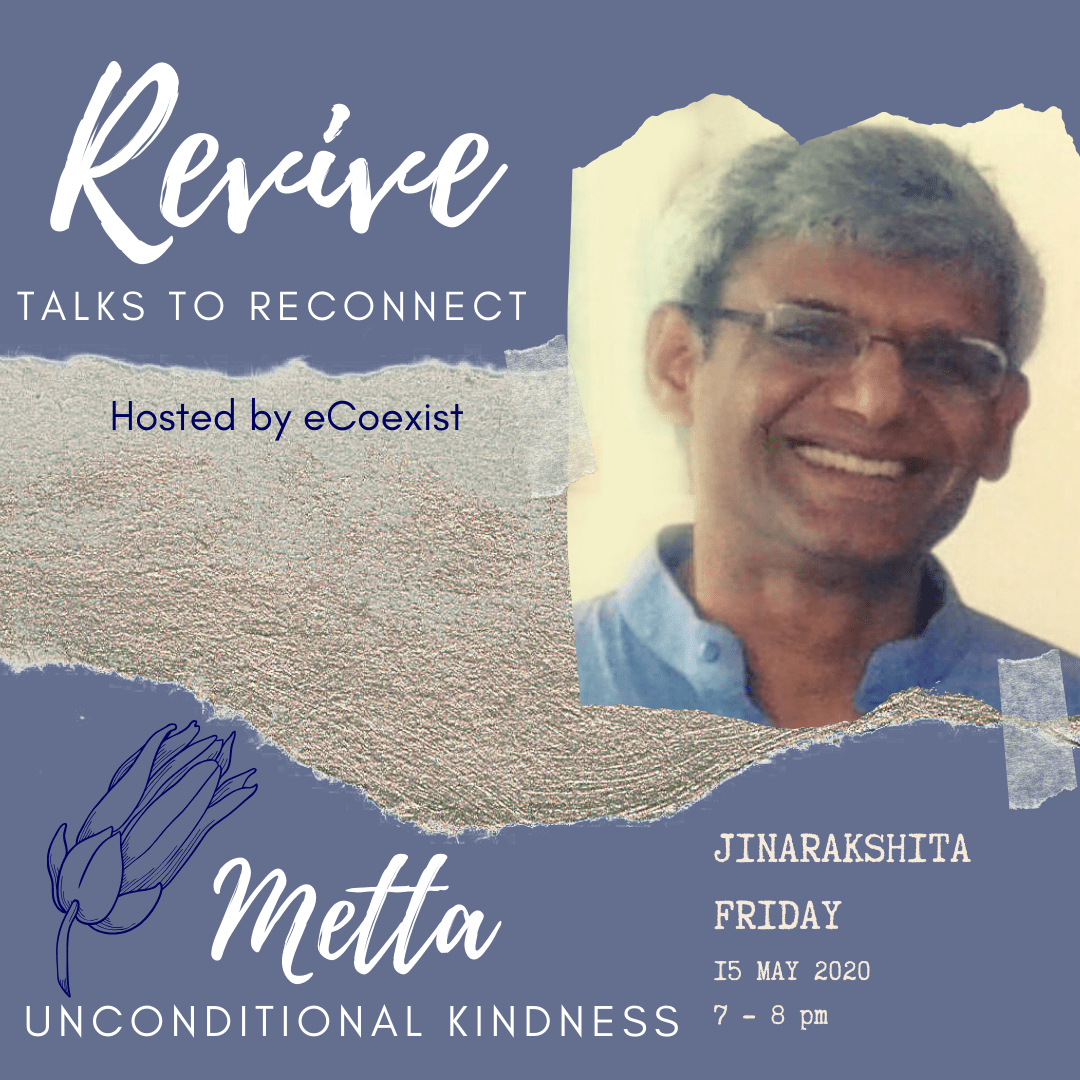 METTA : Unconditional kindness
Jinarakshita is an ordained member ("Dhammachari") of the Triratna Sangha, a Buddhist Sangha which aims at trying to engage with the Buddha's teachings in the conditions of the modern world. He is a scientist by profession, and is actively engaged in research.
The cultivation of a positive emotion is an important aspect of the Buddhist path. In this session he will discuss the relevance of the cultivation of "metta" in the context of the corona pandemic. Metta, often translated as "loving-kindness" is an open, unconditional friendliness.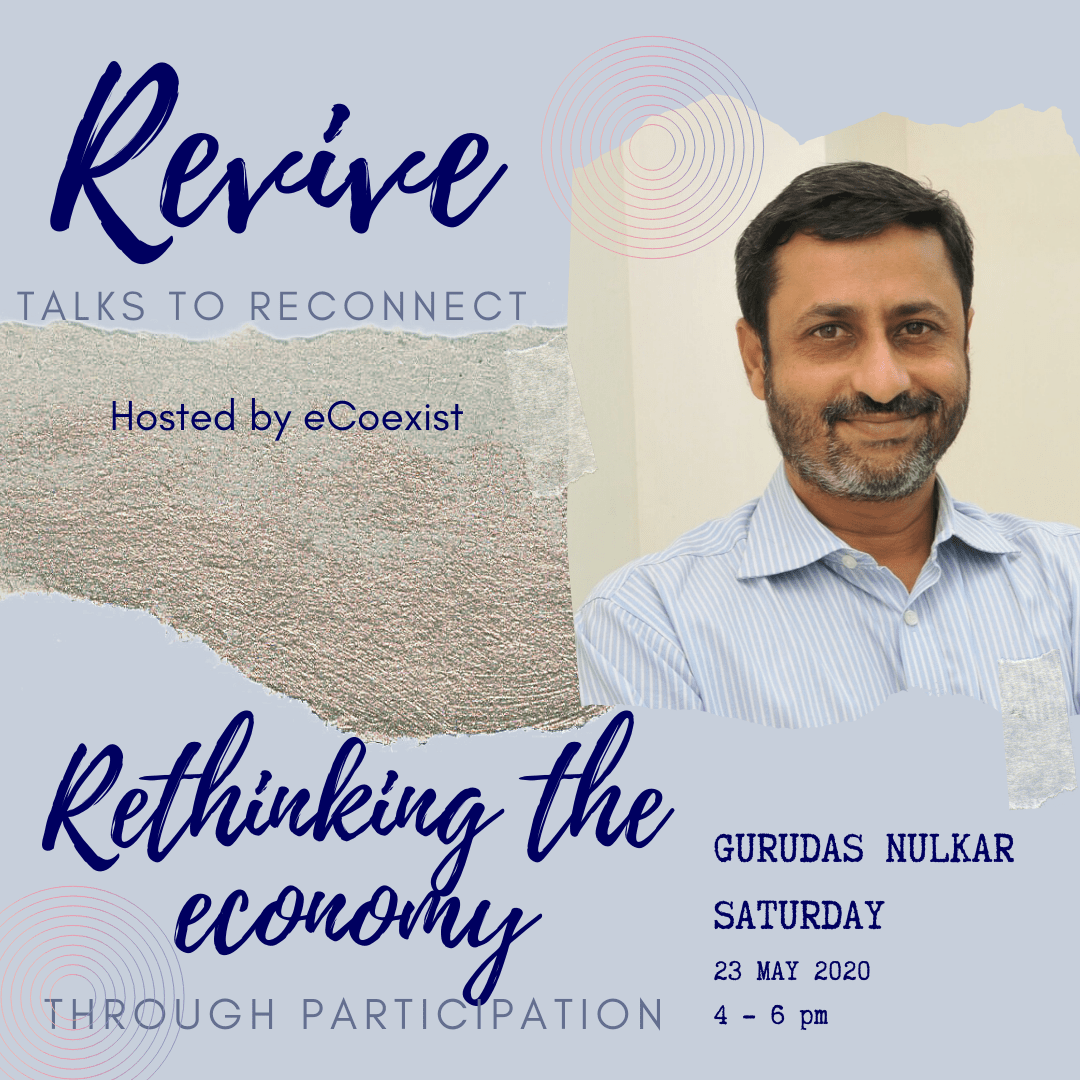 RETHINKING THE ECONOMY: Through Participation
Prof Gurudas Nulkar, is a professor of Management at Symbiosis University, Pune and trustee of the Ecological Society, Pune. In search of an alternate economy, in this episode, Gurudas discusses his optimistic views on what could be a Post Covid way of life. He feels that an alternate economy needs participative democracy as an enabler.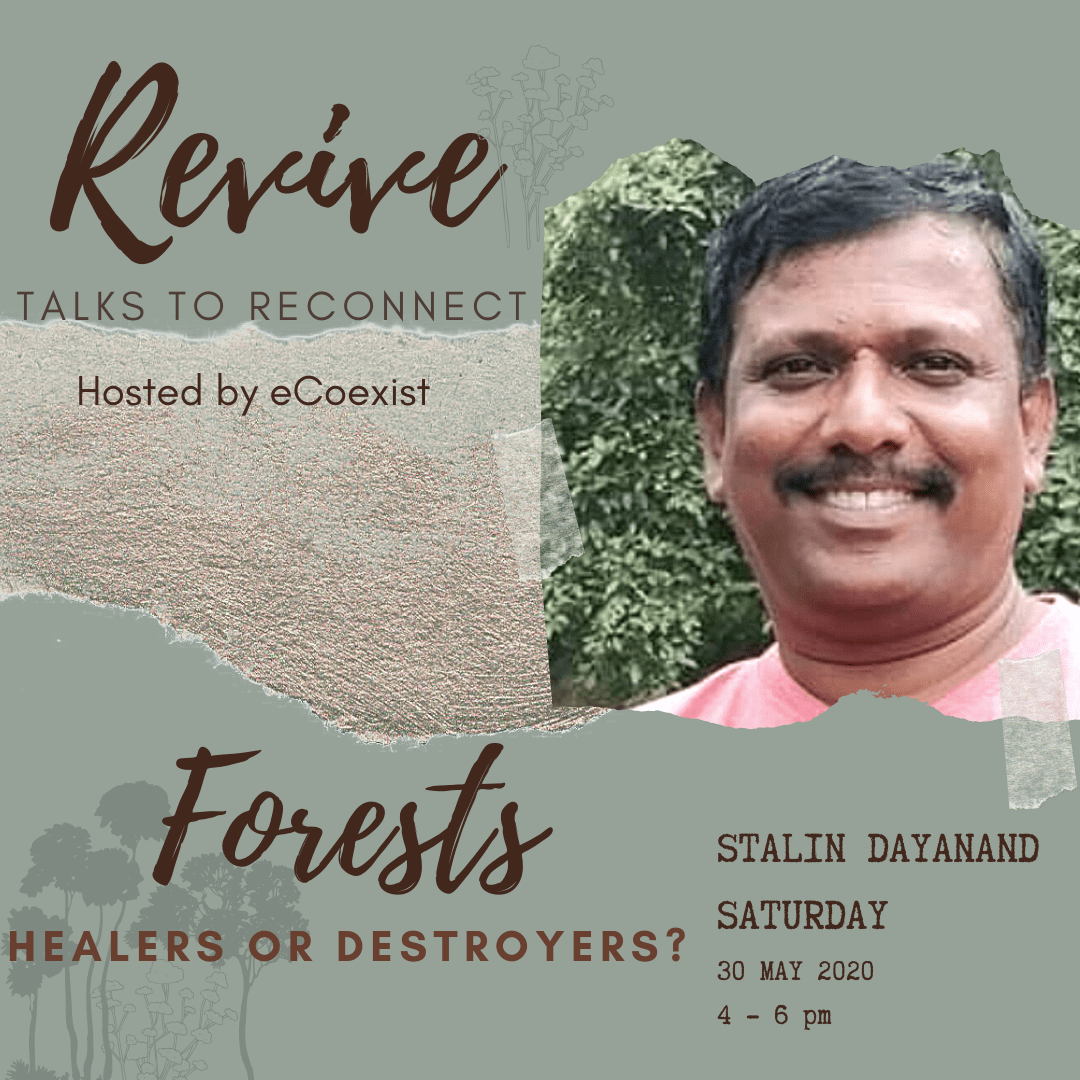 FORESTS: Healers or Destroyers?
What does a forest have to do with a pandemic? Do we need development at the cost of our forests? What exactly do the forests mean to the planet? Are we doing enough to keep mankind safe? Stalin Dayanand, an environmentalist with several years in conservation will be speaking about the importance of forest conservation to public health.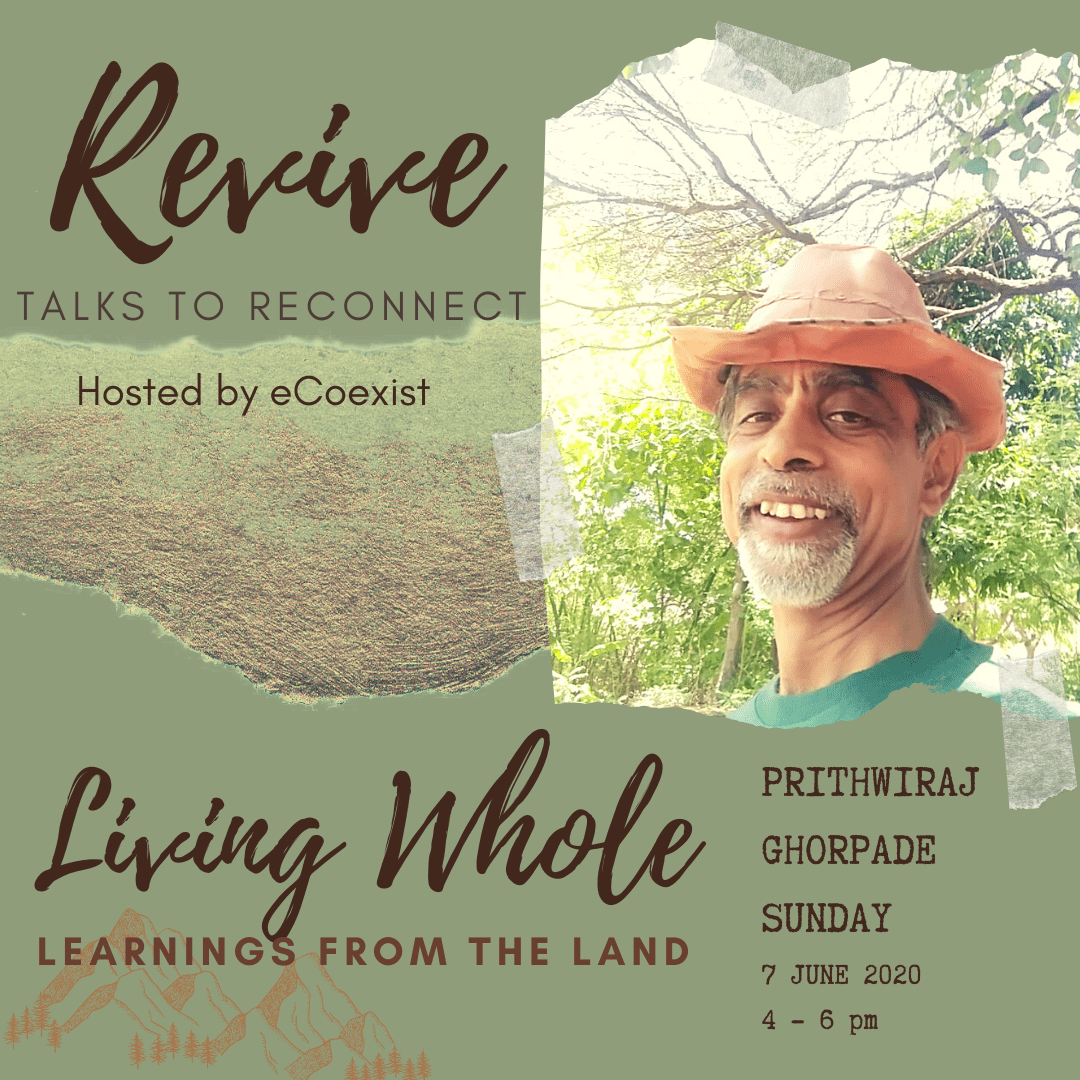 LIVING WHOLE: Learnings from the land
Prof Prithwiraj Ghorpade started his career as an entrepreneur with his own packaging industry, which led him to become a business consultant. However his love of the land, pulled him to set up an organic farm twenty five years ago. How did this shift transform his life and what were the learnings he received from the land? In conversation with Manisha Gutman, Prithwi shares the wisdom he has gained over this time, the challenges he faced and the gifts he received from making this shift.
THE USEMEAGAIN CAMPAIGN
Single Use Disposable products wreak havoc on the natural environment as they are usually made of toxic man made non biodegradable materials such as plastic, polystyrene and mettallised multi layered films. This campaign aims to revive the habit of reuse among consumers by encouraging them to change their habits, offering alternative products they can use and redesigning systems that can support reuse. Several states in India have now banned single use disposables and eCoexist has been following the situation in Maharashtra closely.
THE ECO GANESH CAMPAIGN
The festival of Ganesh Chaturthi has led to a large scale of water pollution in recent times as the material used to make the Ganesh idols and the decorations in this festival moved from traditional natural clay to Plaster of Paris and chemical paints. When such idols are immersed in water bodies they damage marine life and pollute water ways. Since 2007, eCoexist has been promoting the use of natural materials such as clay, paper and cow dung in this festival.
THE SAFE HOLI CAMPAIGN
Originally Holi was a festival to welcome spring and the colours used to play were all made of flowers and leaves, some of which had cooling and medicinal properties. The use of toxic chemical dyes for this festival had caused damage to skin lungs and eyes and eCoexist has developed a brand of colours called Rang Dulaar to help people celebrate in a completely natural way. This project also provides income to several underprivileged groups in the making and packaging of the colours.
BEAUTY OF RECYCLING CAMPAIGN
In 2010, eCoexist began a series of annual events called The Beauty of Recycling which aimed to highlight the aesthetic and financial potential of recycling and up cycling. While recycling has been an age old tradition in India, it was mostly done for economic reasons and as society started to become upwardly mobile, urban lifestyles became more and more wasteful. This campaign brings a consciousness into resource use by showing people creative ways of up cycling and recycling.
CLOTH AND CANVAS BAGS
A range of hand made cotton and canvas bags to drastically reduce your need for plastic bags. With several styles and artworks to choose from, our bags are easy to customise and they make excellent branding tools. Commit to a plastic free world by using our bags again  and again!
ECO FRIENDLY GANESH IDOLS
Check out our stunning range of biodegradable Ganesh idols made of natural clay, paper cache, and cow dung. These idols are made by traditional artisans across the country. Our idols dissolve in water and are not harmful in any way to wildlife. They can be immersed at home too.
RANG DULAAR NATURAL COLOURS
Colours made of natural ingredients such as turmeric, indigo and rice flour, leave your skin feeling fresh and healthy while bringing an abundance of joy and cheer to the festivities. They also provide an income to several underprivileged groups from farmers, to prisoners to self help groups.
CONTRIBUTE
Read more about ways in which you can participate in our vision...