On my first visit to Indonesia some years ago, I was struck by the natural beauty of that country and the manner in which it was seamlessly integrated into man made objects. South East Asia has highly refined handicrafts that use natural grasses and fibres to decorate the man made world. The stunning beauty of these handmade decorations reflected the love that the Balinese culture has for Nature and the care with which these are crafted.

In India too we have traditions of such natural decorations - so why don't we see them much in use now?
Plastic and Thermocol decorations
In the ban on disposable plastic items in Maharashtra declared in March 2018 , there was a mention of plastic and thermocol decorations. While these are glitzy and attractive to the eye, they usually have a short life span as they are cheap and can be replaced easily. They end up in land fills even if they are still usable and do not biodegrade. Many of these come to India from China.

Thermocol was also introduced as a decorative material as it is easy to cut light and cheap. Thermocol is fragile and disintegrates into small particles when it is thrown away. These particles cannot be removed from water and soil easily and do not biodegrade either.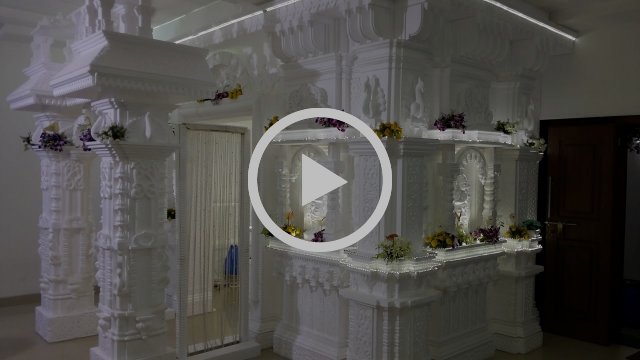 The ease with which thermocol can be cut into various designs and its light weight makes it a very popular material for temporary decorations - however this also becomes waste very quickly.
Ban
on single use disposable plastic items
Maharashtra established a ban on single use disposables in March 2018 which included thermocol and plastic decorations.. in June 2018 thermocol was exempted from this ban on an appeal from thermocol industries. However on 14 July 2019 the Bombay High court rejected a plea from the Thermocol Fabricator and Decoration Association and declared that thermocol, or polystyrene foam, can no longer be used for decorations during Ganesh Chaturthi.
Alternatives to plastic and themocol
There are many materials that can be used to decorate spaces and for festivals - those that have evolved into highly refined crafts and many folk arts that use completely natural materials too. Some of these include:
1. Rice husk
2. Natural Fabrics
3. Paper
4. Clay
5. Shola pith
6. Grasses and reeds

eCoexist brings you a range of decorations made out of biodegradable materials to ensure that your festivities do not cause pollution.
Ecofriendly decorations from eCoexist
The accessories you see here are made by the womens self help group in Ahwalwadi that eCoexist has been supporting for the past four years. Many of these are made using waste fabrics and help to bring a supplemental income to the ladies. Your purchase of these items goes a long way to support this effort. The accessories can be stored away to be used again and again year after year and for different festivities. They also make beautiful additions to your childrens rooms.