HISTORY
While the diety Ganesha appeared early in the evolution of the Hindu brief system, the festival of Ganesh Chaturthi became a major social and public event because of Indian freedom fighter Lokmanya Tilak, who championed it as a means to circumvent the colonial British government ban on Hindu gatherings through its anti-public assembly legislation in 1892. The district of Pune which is the home of the eight special forms of Ganesha ( Ashta Vinayak) was also the city where Lokmanya Tilak lived and led the freedom movement. The celebration is most grand in the city of Pune which continues the tradition of using it to raise social and environmental awareness in society.
CULTURE
The Sculpting Tradition
The tradition of making a Ganesh idol has evolved differently in different parts of the country. A festival that originally began as a way of offerring gratitude to the earth involved bringing a handful of earth home and moulding it oneself into an idol. After worshipping it for a few days it was brought back to the river banks and submerged to carry the prayers and blessings back to the Earth.
In South India, people still follow this tradition of making ones own idol at home and children have grown up watching the ritual being followed annually.
The art of sculpting Ganeshas however provides livelihood and income to a large population of people whose entire income comes from the sale of idols they have made all year around, during month before the festival begins.
Few of these people are master sculptors, artists who retain the skill and art of moulding an idol from clay. Based on the prototypes these few masters create, moulds are pressed and then large scale production begins, done mostly by 'printers', people who know how to handle the material, but are not artists themselves.
As the demand of hand sculpted Ganeshas reduced in the market, fewer and fewer masters remain and the industry is now run mostly by labour.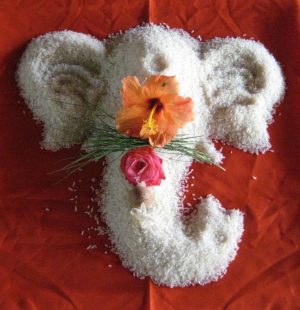 RELIGION
Ganesh Chaturthi (IAST: Gaṇēśa Chaturthī),  is the Hindu festival that reveres god Ganesha. A ten-day festival, it starts on the fourth day of Hindu luni-solar calendar month Bhadrapada, which typically falls in the Gregorian months of August or September. The festival is marked with the installation of Ganesha clay idols privately in homes, or publicly on elaborate pandals (temporary stages).  The festival ends on the tenth day after start, wherein the idol is carried in a public procession with music and group chanting, then immersed in nearby water body such as a river or ocean, thereafter the clay idol dissolves. ( Source: Wikipedia)
Read about the natural origins of the Ganesh Chaturthi festival in an interview with Vedic scholar Sri Vivek Godbole of Satara.
When we began to look at the environmental issues surrounding the Ganesh festival in 2007, in the city of Pune, the birthplace of this massive social event, a few things were immediately evident.
The materials being used to make the items for the worship were chemical and non-biodegradable.
The ritual of immersing these in natural water bodies led to water pollution.
The accessories used in the decorations were also synthetic and polluting.
The size of the idols and the scale at which the festival was being celebrated was creating an environmental impact that was unmanageable.
It was a very popular and deeply sentimental event that could not be easily questioned.
eCoexist began by addressing the most obvious aspect - the material out of which the Ganesh idols were made. Whereas traditionally, the idols were sculpted out of local clay by devotees themselves, in the industrial age, this had been replaced by Plaster of Paris, a man-made material that does not dissolve in water. Additionally, the paints used to colour these idols were chemical oil or watercolours that contained lead and mercury.
TOXICS
The issues around toxicity in the festival of Ganesh Chaturthi can be broadly put under three categories
The impact of immersion of Plaster of Paris on water
The toxic chemicals contained by chemical paints and the impact of these on water.
The impact of all the 'nirmalya' - the worship materials when thrown into water.
It should be clearly stated that it is not the materials themselves that are an issue but the fact that they are 'immersed' in natural water bodies that creates an environmental problem.
Study by Toxics Link on impact of immersion
Research paper by Prof Asolekar IIT Mumbai on impacts of immersion
ALTERNATIVES
The ecosensitive alternatives available for this festival include a range of natural or biodegradable materials on the one hand, and reinterpretation of the ritual itself on the other.
Materials that do not cause damage to making ecosystems include:
Natural Unbaked Clay
Papier Mache
Cowdung
Materials that can be used to make decorations and accessories include
Paper
Sholapith
Natural fabrics such as cotton and silk
Rice husk
Plants and flowers
EDUCATIONAL SESSIONS
In the initial years, eCoexist conducted educational sessions in schools teaching children to make their own idols, published articles and spoke about the need to switch to natural materials wherever possible. These educational sessions discussed the concept of biodegradability with the children and also demonstrated to them how a Ganesh idol is made. We also invited sculptors to teach them how to make their own idols.
Natural clay Ganesh idols
eCoexist aims to revive this fast diminishing art by:
Offering marketing support to original sculptors
Encouraging trainings for talented young sculptors
Providing a buffer for the risk posed by biodegradable materials
Investing initial capital to help smaller sculptors expand their production
Offering design inputs to sculptors on what is marketable
For 2014, we were approached by several new sculptors who, having heard of the role we play, requested to join our network of producers.
We moulded clay idols, hand sculpted idols and paper mache idols from:
Pen, Maharashtra
Amaravati, Maharashtra
Sirsi, Karnataka
Pune, Maharashtra
Based on research done by Toxics Link, Delhi eCoexist sought out sculptors in the town of Pen, who were still holding on to the tradition of sculpting in natural clay. We realised that the challenges faced by them were tremendous as clay was laborious to work with, time-consuming and very fragile. This meant that the costs of making idols in clay were nearly two to three times more than Plaster of Paris. With the change in lifestyle, finding workers who would be willing to sculpt by hand was becoming more and more difficult and we could appreciate why most Ganesh idol manufacturers preferred to turn to PoP.
Our first 30 idols were made in Pune itself, with the help of a local sculptor, and we invite the mentally challenged students of the ASHA school to paint them for us. The colour pigments were suggested by the principal of the school Arundhati - who said we could use various types of earth and food materials such as turmeric and spinach.
Over the years that followed, eCoexist started to collaborate with the traditional sculptors, encouraging them to sculpt in clay while eCoexist bore the responsibility of creating a market for these idols. This was not an easy task, as we were competing against brightly coloured PoP idols which were much cheaper than ours. Damages were plenty and the entire task of transporting these idols to the city was very stressful. However, we slowly started to get the message across.
CAMPAIGNS
River cleaning and Nirmalya Segregation Campaign
EVENTS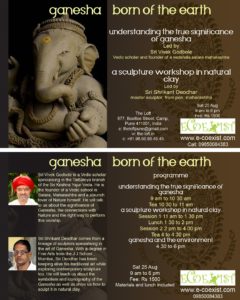 Born of the Earth, Workshop on Ganesha, Mumbai, 2012
Several years ago, eCoexist started to distribute packets of seeds with our Ganesh idols. We invited devotees who purchased our eco Ganesh idols, to include these seeds in their worship as 'prasad' - a gift from Lord Ganesha and to plant them after the ten days of festival were complete. Over the years this tradition has touched the heart of many of our clients and we are now receiving requests for seeds along with the orders that people place.
We are honoured and happy to share that this year we will start work again with the Vanastree Seed Collective based in Sirsi, Karnataka.
Farmers and gardeners of the Vanastree collective save seeds of traditional vegetables and flowers. These seeds are organic, open pollinated, and available for planting in food gardens (including urban terraces) all over the Indian sub-continent. Seeds are exchanged and gifted as a tradition in the Malnad which we have encouraged and endorsed as a priceless community activity.
Seeds are the essence of life. Humans have evolved alongside the seeds that they chose and planted. Saving of seeds of age-old varieties of crops has ensured planting material for cycle after cycle of food crops. If we don't save seeds to plant, then where will our food come from? The art of seed saving and exchange ensures that we also have autonomy over the kind of crops we grow and what food we eat for generations to come. Seed Swaraj is the new swaraj!
The reason we talk about Beej Swaraj or Seed Swaraj is because seeds are precious and without them life just cannot move forward. Several MNCs (Multi National Companies) have cashed in on this, and produce hybrid seeds that they sell at very high prices in the market. Modern hybridisation is the purposeful crossing of plant varieties with desirable qualities evidently in order to "improve" them. It is done by selection of certain traits over several generations of plants. It has become a ploy used by seed companies to ensure proprietary and breeding rights over the varieties developed by them, thus monopolising the market. The process renders future generations of those seeds almost sterile and unusable, since the undesirable variations show up. Modern hybrid seeds cannot be saved and re-sown. Farmers and gardeners have to buy fresh seeds from the seed companies year after year, thereby incurring high costs and becoming enslaved. Monsanto, Syngenta and others are companies that have built up a notorious reputation for their role in the seed business and biopiracy.
Open pollinated (OP) seeds on the other hand are traditionally bred seeds, which have been developed by farmers in an open, natural environment. They have been preserved for millennia, and can be saved, sown and reproduced by anyone, thus allowing farmers and gardeners independence from seed companies. It also means that many rare and wonderful varieties get a chance to be part of the vast genetic pool of plants that we have around us.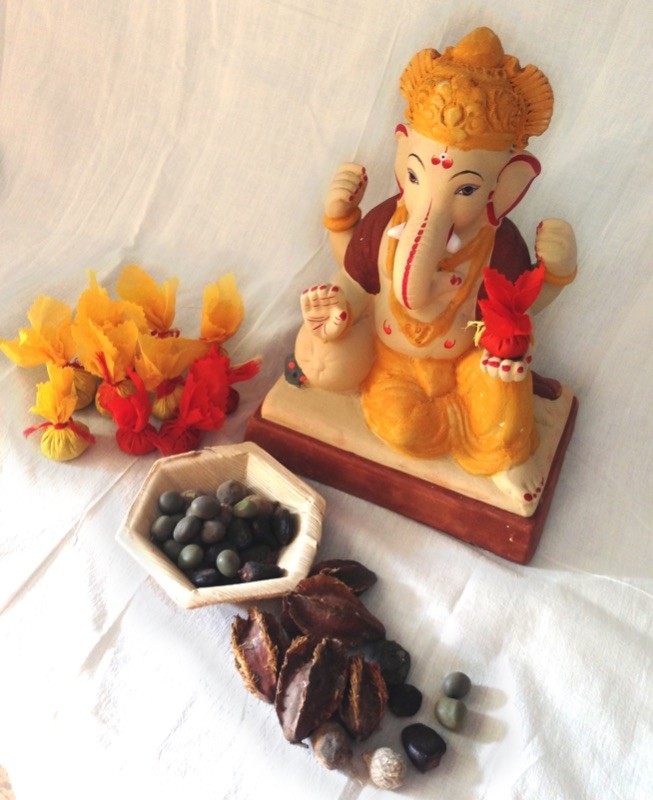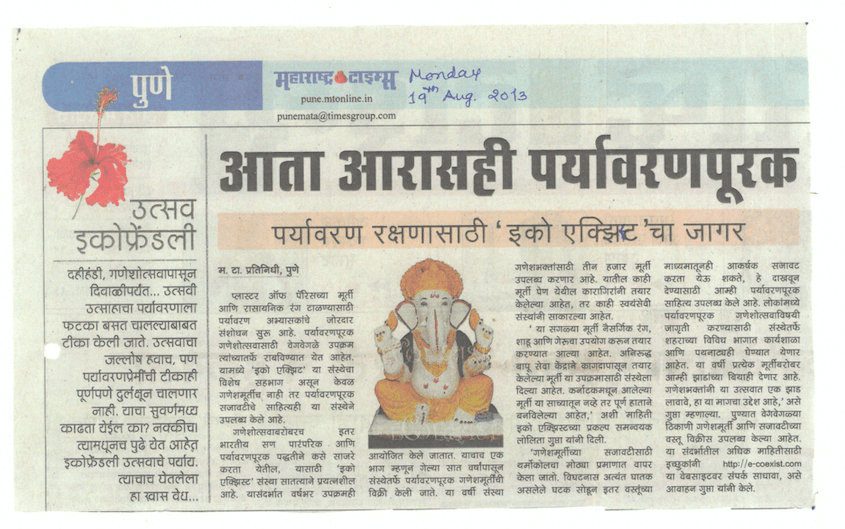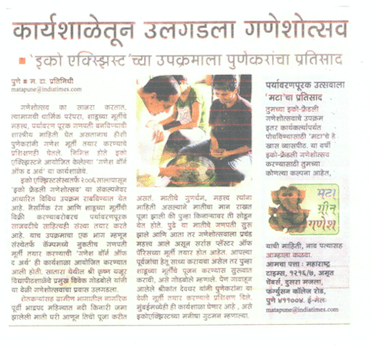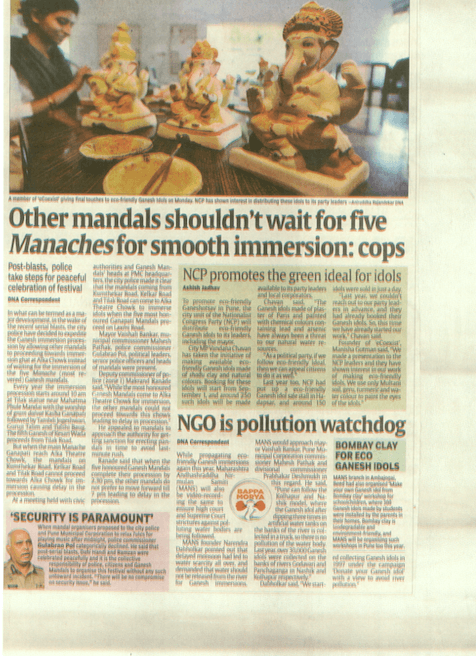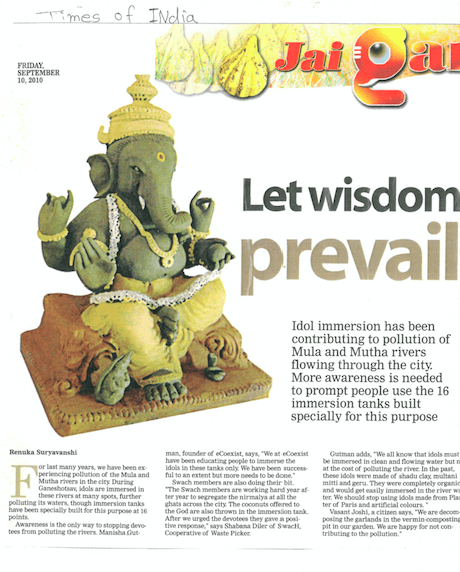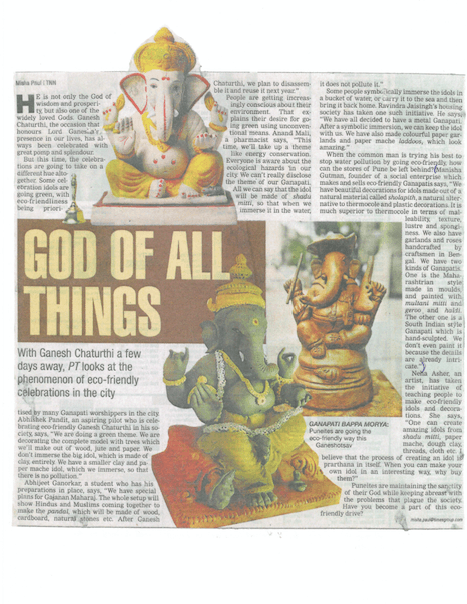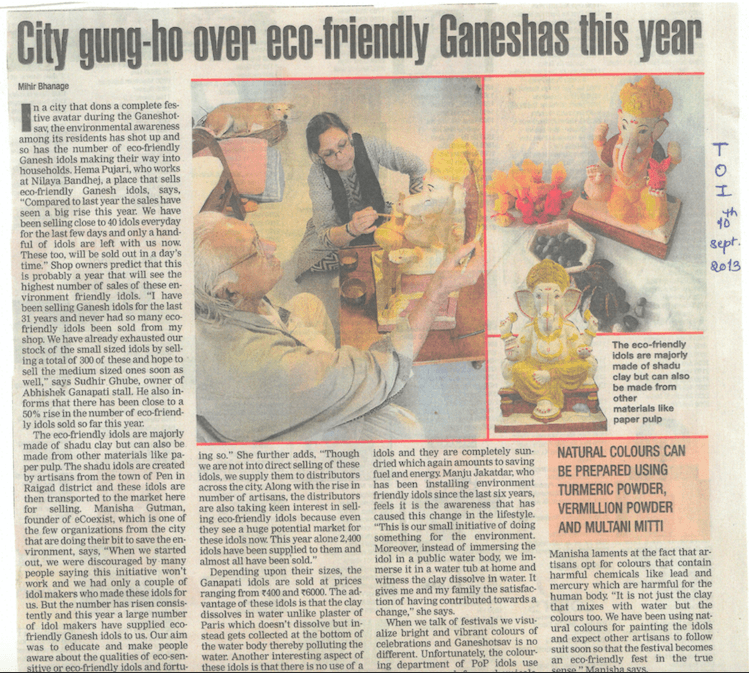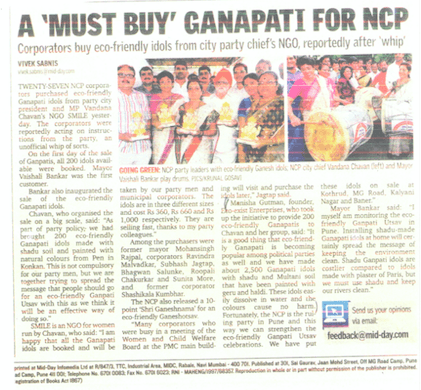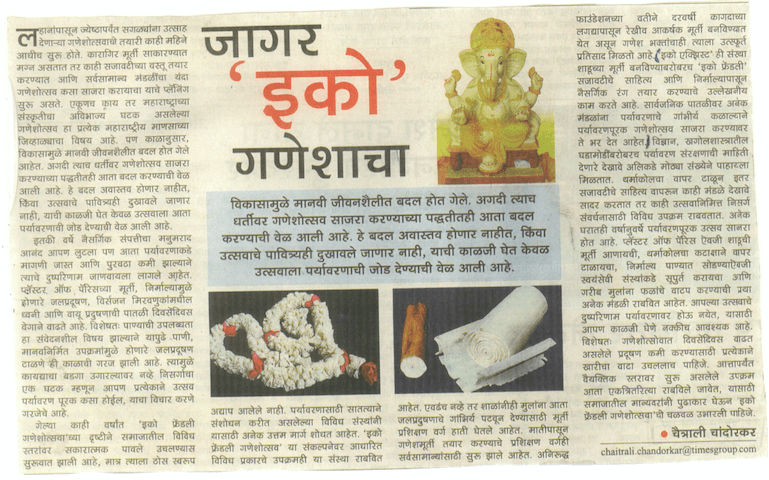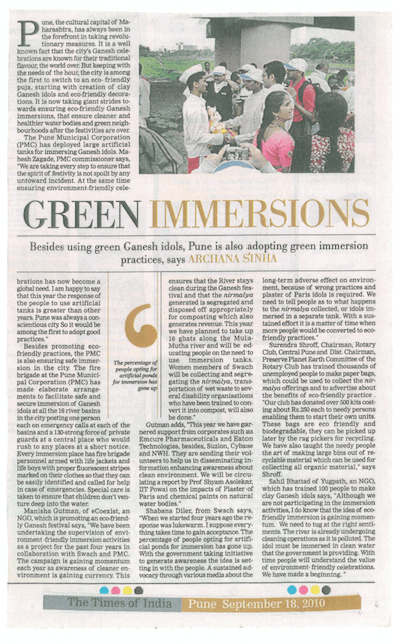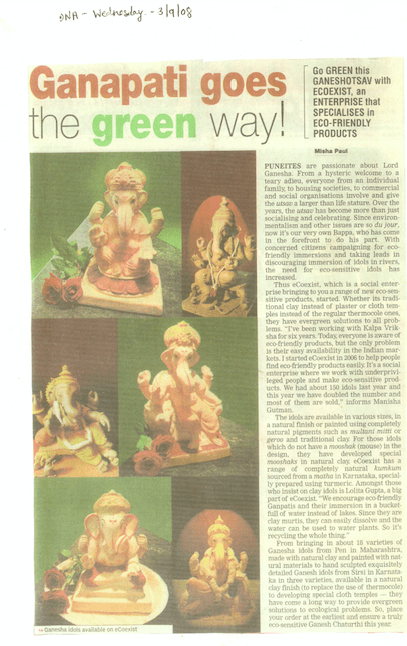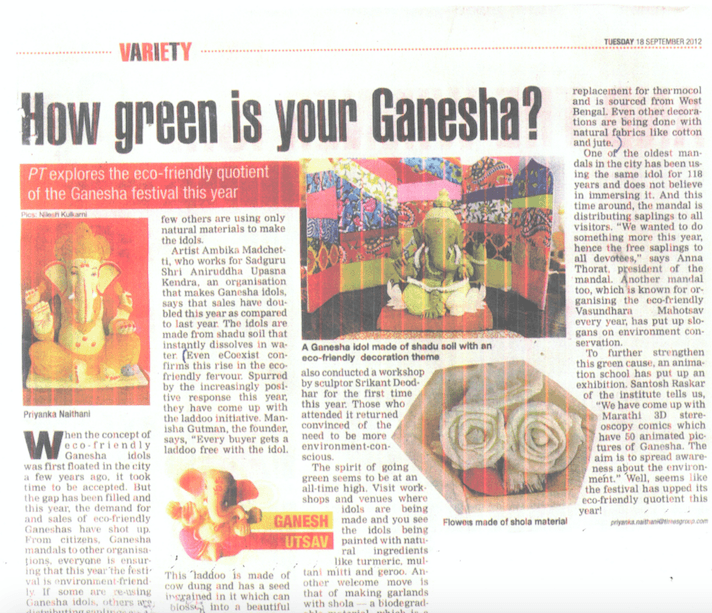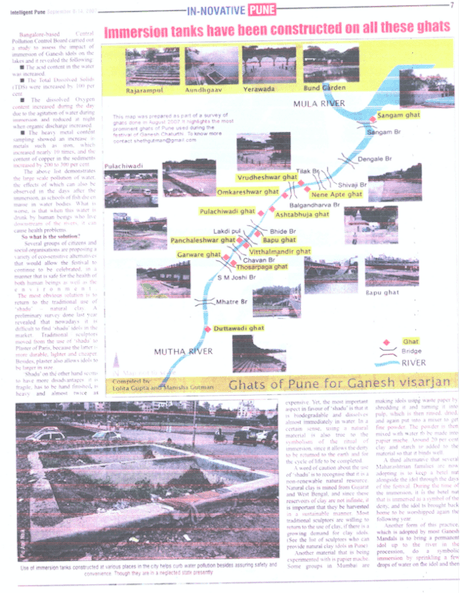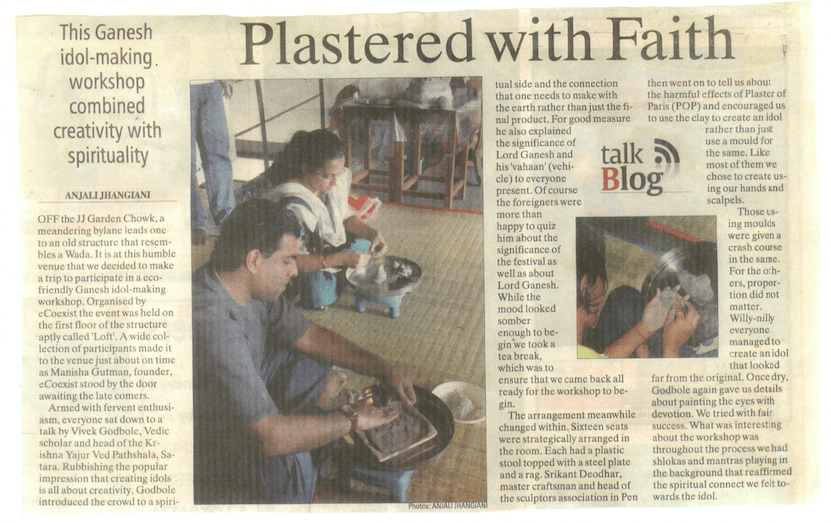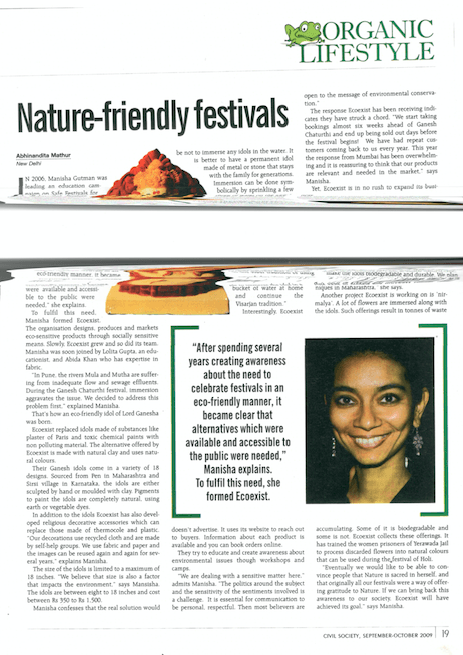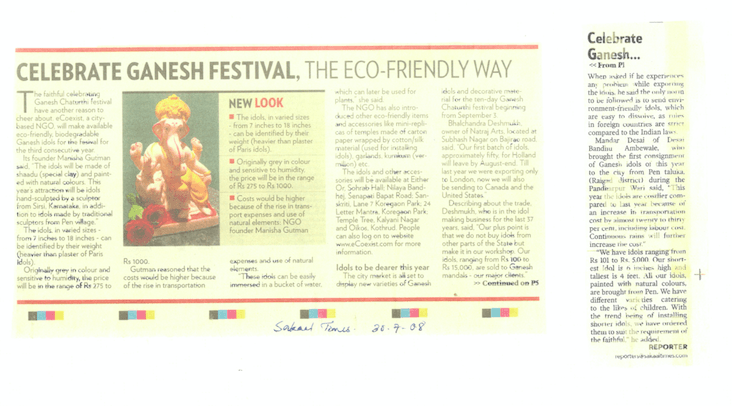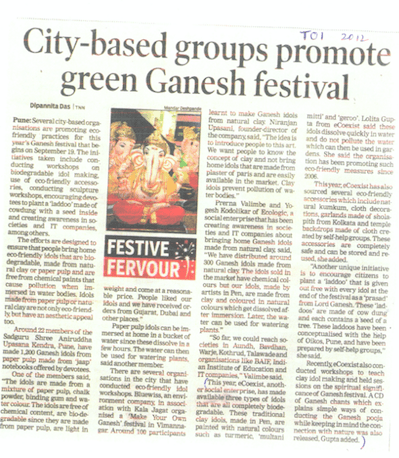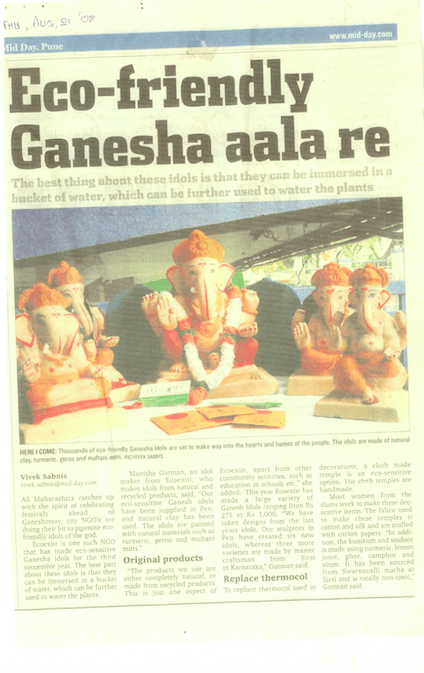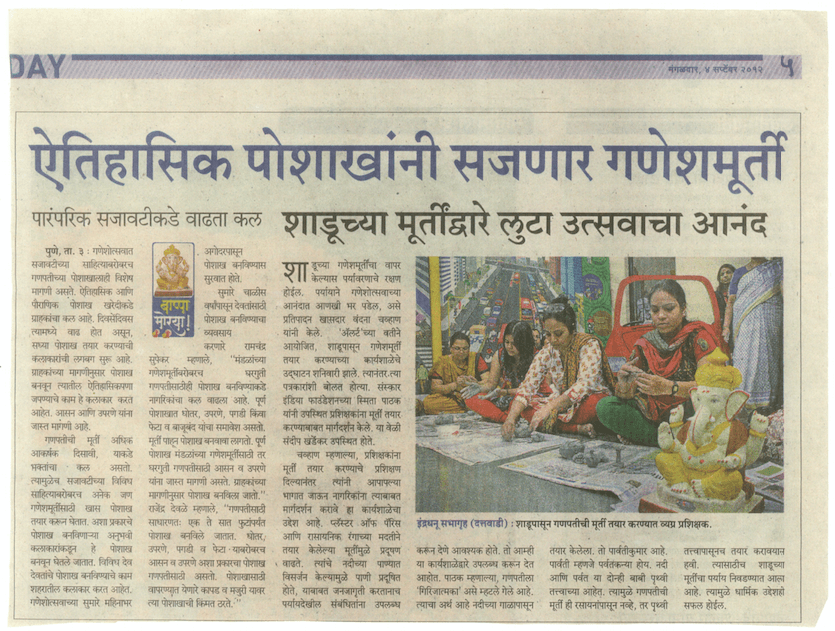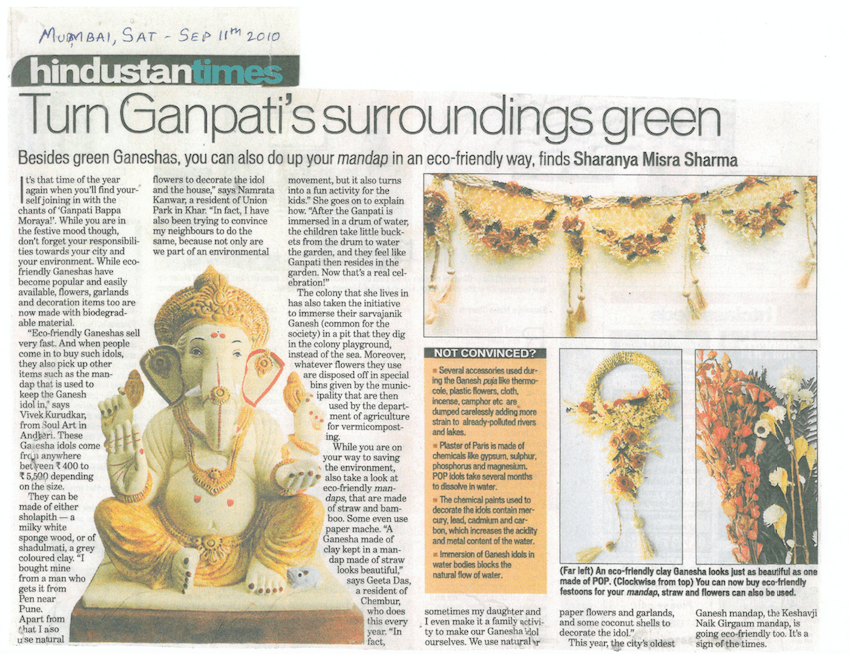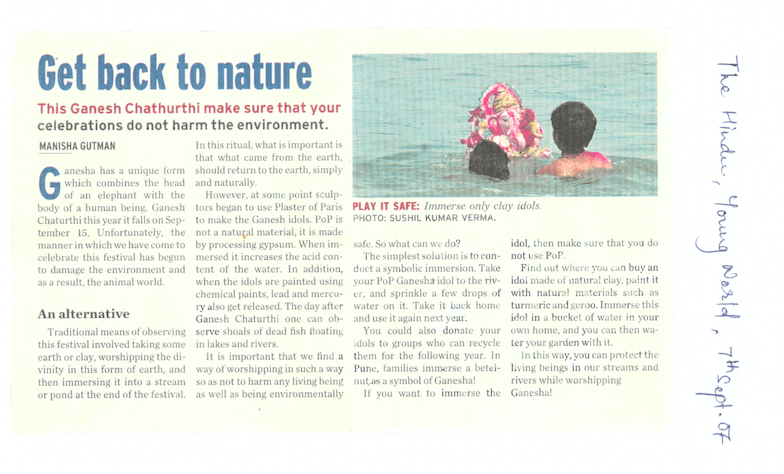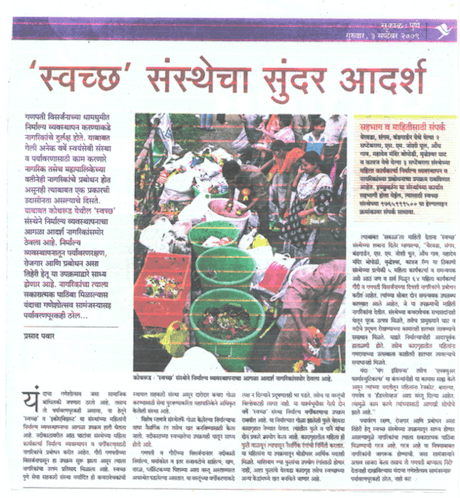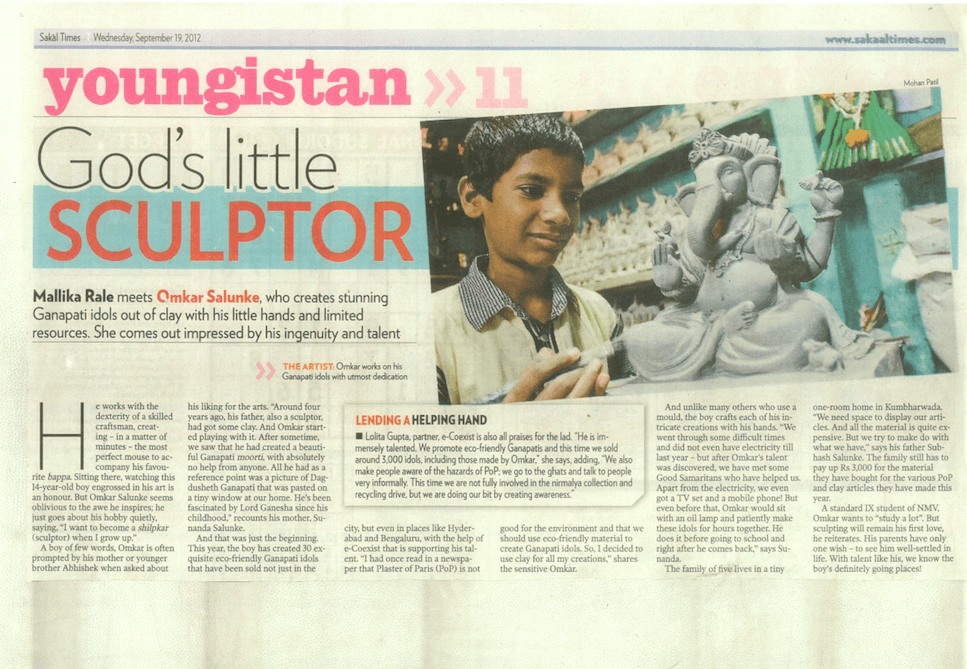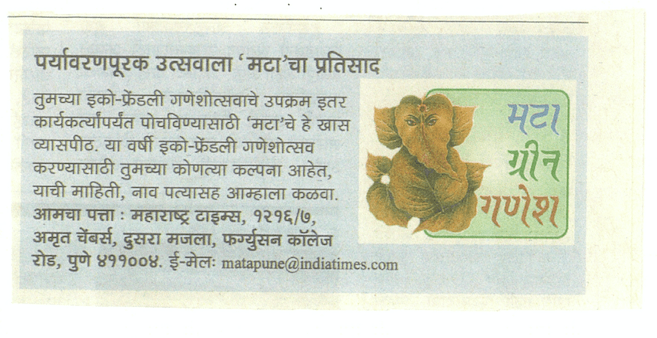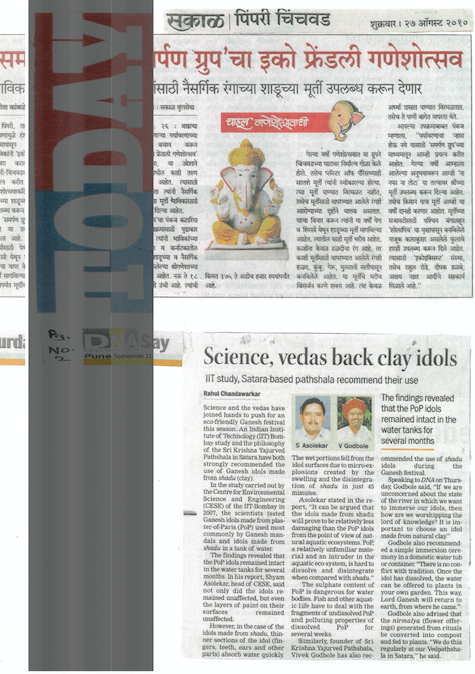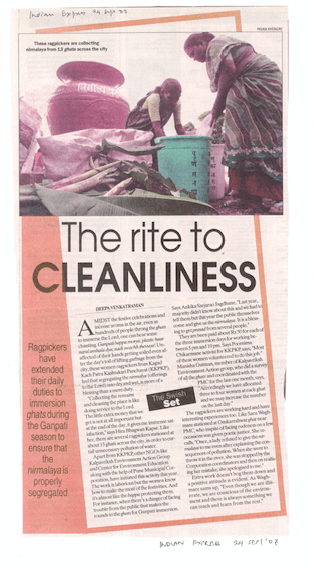 ECO FRIENDLY GANESH IDOLS
Check out our stunning range of biodegradable Ganesh idols made of natural clay, paper cache, and cow dung. These idols are made by traditional artisans across the country. Our idols dissolve in water and are not harmful in any way to wildlife. They can be immersed at home too.